Happy New Year my Sweet Sugarlumps!
         I love fresh starts, new beginnings, clean slates, do-overs, and the field of endless possibilities they offer. That may be why I love New Years Day, the ultimate fresh start!  So many plans for 2015, I can't list them all (or won't bore you with them all!)  But a few of the art-related ones are listed here....
In the art world....
1.   Leslie Saeta "30 in 30" Challenge Accepted.
      In January a number of artists from around the world will paint 30 paintings in 30 days for the Leslie Saeta "30 in 30" challenge. Be sure and visit my website, blog, or dailypaintworks to see my paintings or visit Leslie's blog to see ALL the artists works starting January 1.

2.  Upcoming Art Shows:
     The Art Event at Lipscomb (Nashville, TN) is scheduled for February 6-8, 2015. See you there! 
     The Warner Parks Show of the Chestnut Group (Nashville, TN) is scheduled for February 12-15, 2015.  I have not painted a plein air painting for this event yet, but hope to. If I don't have any work in the show, I still want to volunteer to help with the event. Hope you can make plans to stop by.  
      The Bonnet House Impressions Exhibit (Ft. Lauderdale, FL) is scheduled for March 5- May 4, 2015. The Artist Reception will be March 5 at Bonnet House's Carl Weinhardt Gallery at 6pm.  
3. New Classes
    Foundations of Oil Painting Workshops, The Art Attic, Franklin, TN.
Foundations of Oil Painting Workshops will begin in January. The first is scheduled January 24 and 25 at The Art Attic in beautiful, downtown Franklin, TN, from 9am-4pm on Saturday and 1-5pm on Sunday. You will learn basic color mixing, brushstrokes, and the process for creating beautiful paintings in oils.  We will paint from photos and from life. Each workshop fee is $199 and students are encouraged to invest in their own materials so they may practice at home. However, you may choose to pay a $25 materials fee for each workshop to use studio materials during class. (exception:  Painting Painterly Workshop is a one-day workshop, $99)
     Five workshops will be offered:
January -   Foundations of Painting
February-   Foundations of Painting the Landscape
March-       Color Bootcamp
April-          Painting Styles of the Great Masters: daVinci, Rembrandt, & Van Gogh
May-           Painting Painterly: Moving from a Pretty Picture to a Masterpiece
    Mini-Monets Children's Art Classes, Amuse'um Children's Museum, Columbia, TN
    The Mini-Monet children's class will be offered on Tuesday afternoons from 3:45-4:45 for students ages 7-12 years old starting January 6. We will meet January 6, 13, 20, and 27.  If your Mini-Monet wants to continue, five more 4-week sessions will be offered.
     In the Mini-Monet classes, students must bring their own supplies, including Acrylic paint.  Each 4-week session will cover a different subject including, mixing colors, shapes, landscapes, and plein air painting. Class fee is $80 per student per 4-week session. A new session will begin each month. A portion of the proceeds will benefit the Amuse'um, a 501(c) 3. 
    Specially priced Acrylic Painting kits are available at a discount at Jerry's Artarama-Nashville for $32.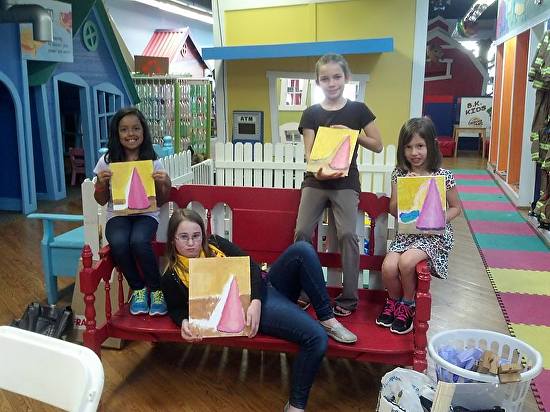 Private Lessons in my home, Columbia, TN
     I am teaching private lessons both in Columbia, TN, and in Natchez, MS. Several 3-hour time slots are now available for those students who prefer private lessons. Mondays from 9am to noon and 1pm to 4pm will be dedicated to private lessons only. Other times are scheduled by appointment. The fee for each 3-hour session is $99.  To schedule your private lesson(s), simply call 615-216-5907.
 4.  Discounted Art Supply Kits Available at Jerry's Artarama
      Jerry's Artarama, located on Mt. View Road across Bell Road from the former Hickory Hollow Mall, has made available both an Acrylics Painting Kit and an Oil Painting Kit available to my students at deeply discounted prices. The acrylics kit is $32, and the oils kit is $62. I recommend purchasing additional canvas panels for practicing.
      If you don't visit this side of town often, you are welcome to call and purchase your kit over the phone, and I will pick it up for you on my next trip to Jerry's. I teach at this location about once every other month.
5.  New Link to upcoming Classes and Workshops

     Announced last month, but left in this newsletter as a reminder, visit www.paintingwithsusan.com to view a listing of upcoming classes, photos, and additional information.
6. The Myrtles, St. Francisville, Louisiana
    Just a little teaser for my plein air students. Kitty Bray and I are working on a day-long, plein air workshop at The Myrtles Plantation in St. Francisville, LA, for March 2015, during their annual Tour of Historic Homes.  
   Accommodations are available in both St. Francisville, LA, and Natchez, MS, or you may choose to stay at The Myrtles.  It is a B&B.   In fact, we are also working on the class enjoying a meal at The Carriage House restaurant right on the property.
   The tentative date is March 24 so that students who come from out of town may also enjoy the Spring Pilgrimage in Natchez and the Spring Tour of Homes in St. Francisville. This dates also coincides with the Natchez Art Festival the following weekend, a great get-away from our cold winter. Spring and warmth come early to Natchez and St. Francisville.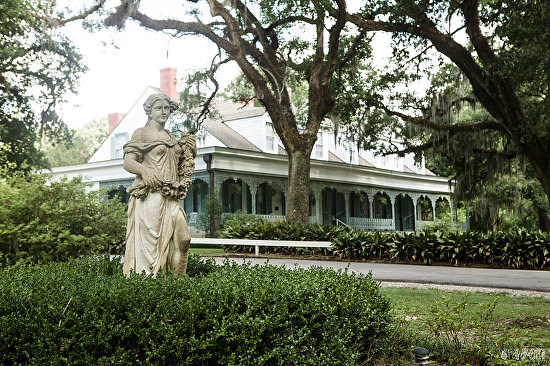 7.  Upcoming Paint-Along Classes will use these paintings for reference.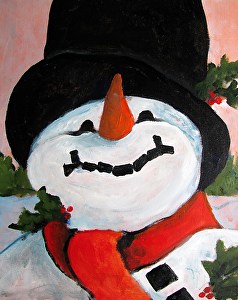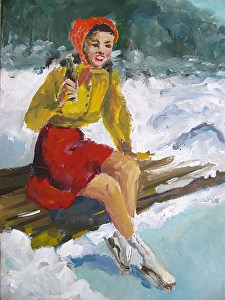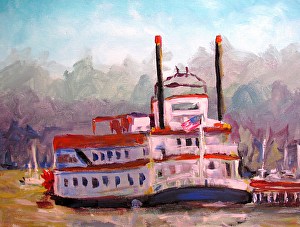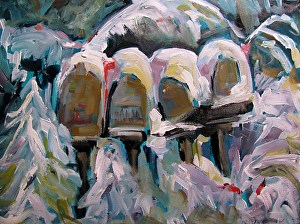 And that is about it for the art world this month....
 Wishing you wild success for all your 2015 plans and resolutions.
Susan Elizabeth Jones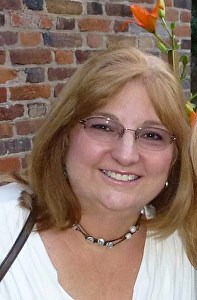 *A few of these dates and locations were tentative at time of newsletter publication.
For more information on classes and workshops, visit DPW or call 615-216-5907.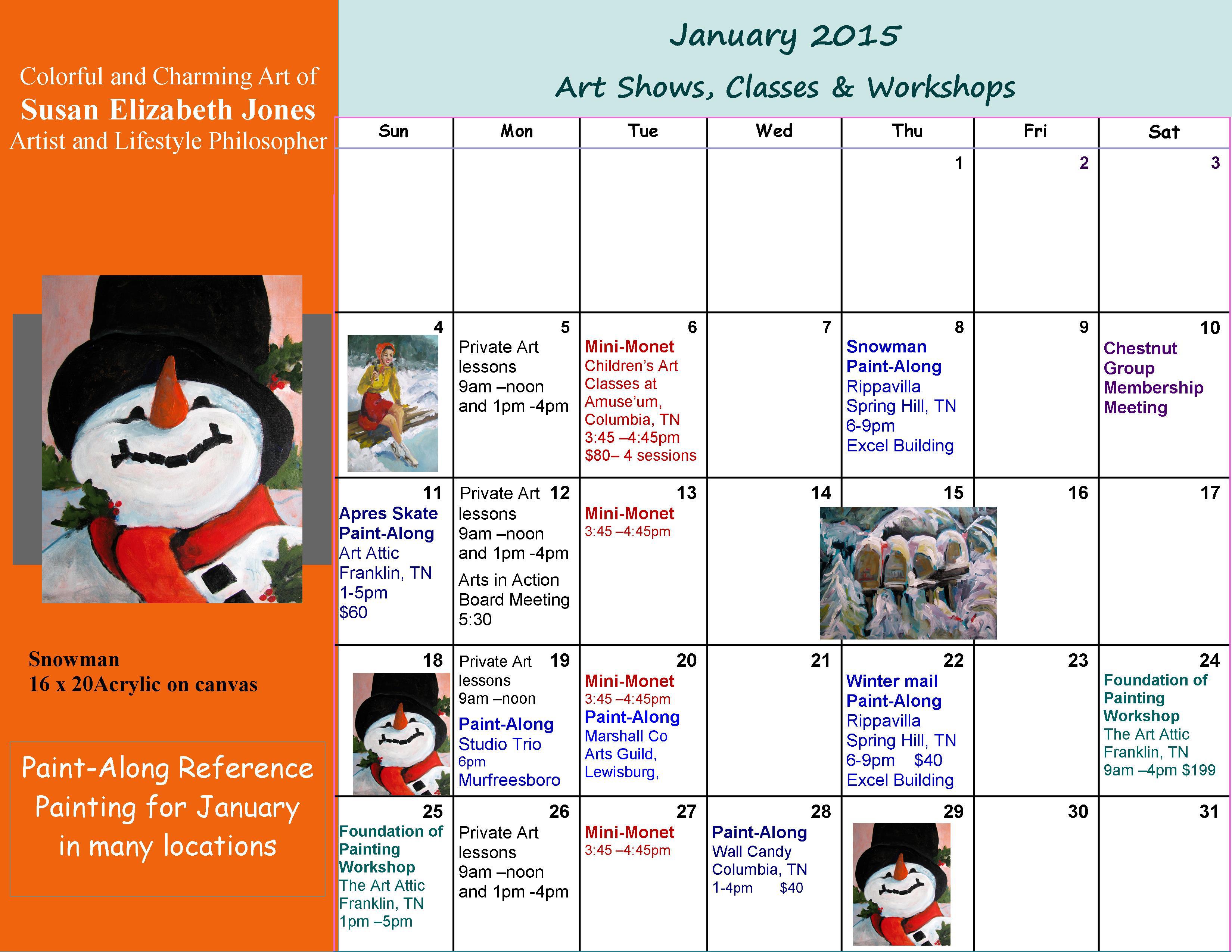 Photos of December Classes and Workshops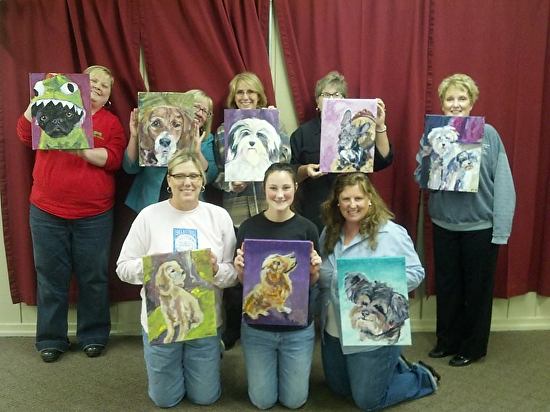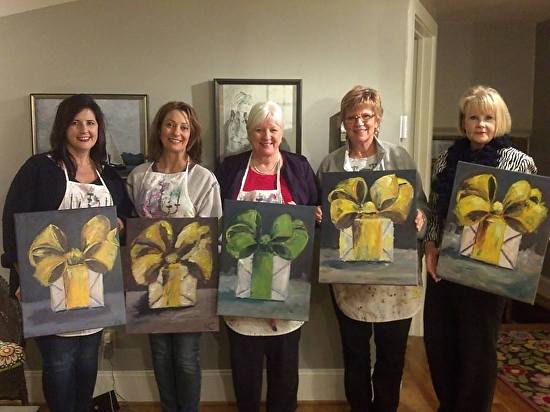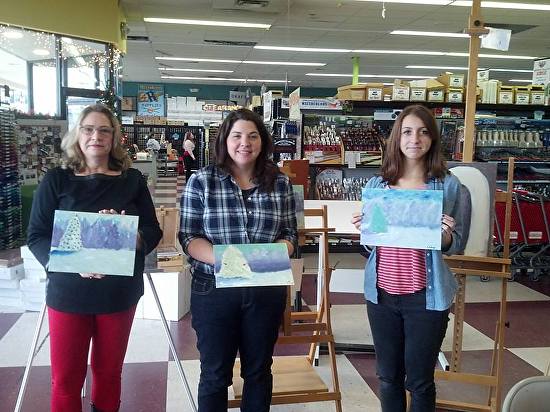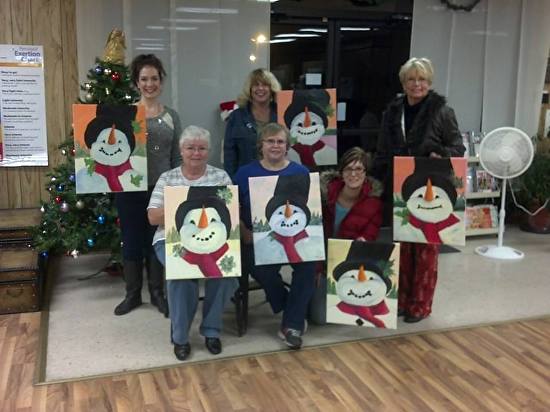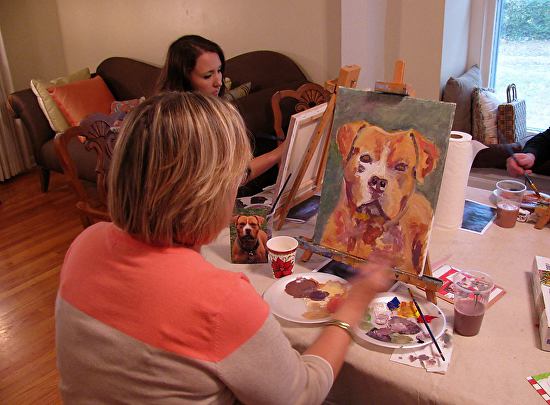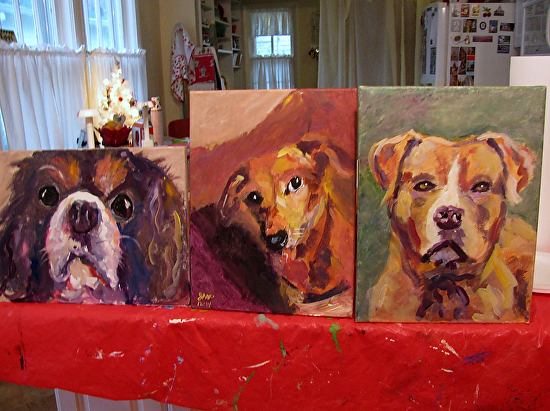 February Calendar of Classes and Workshops (tentative)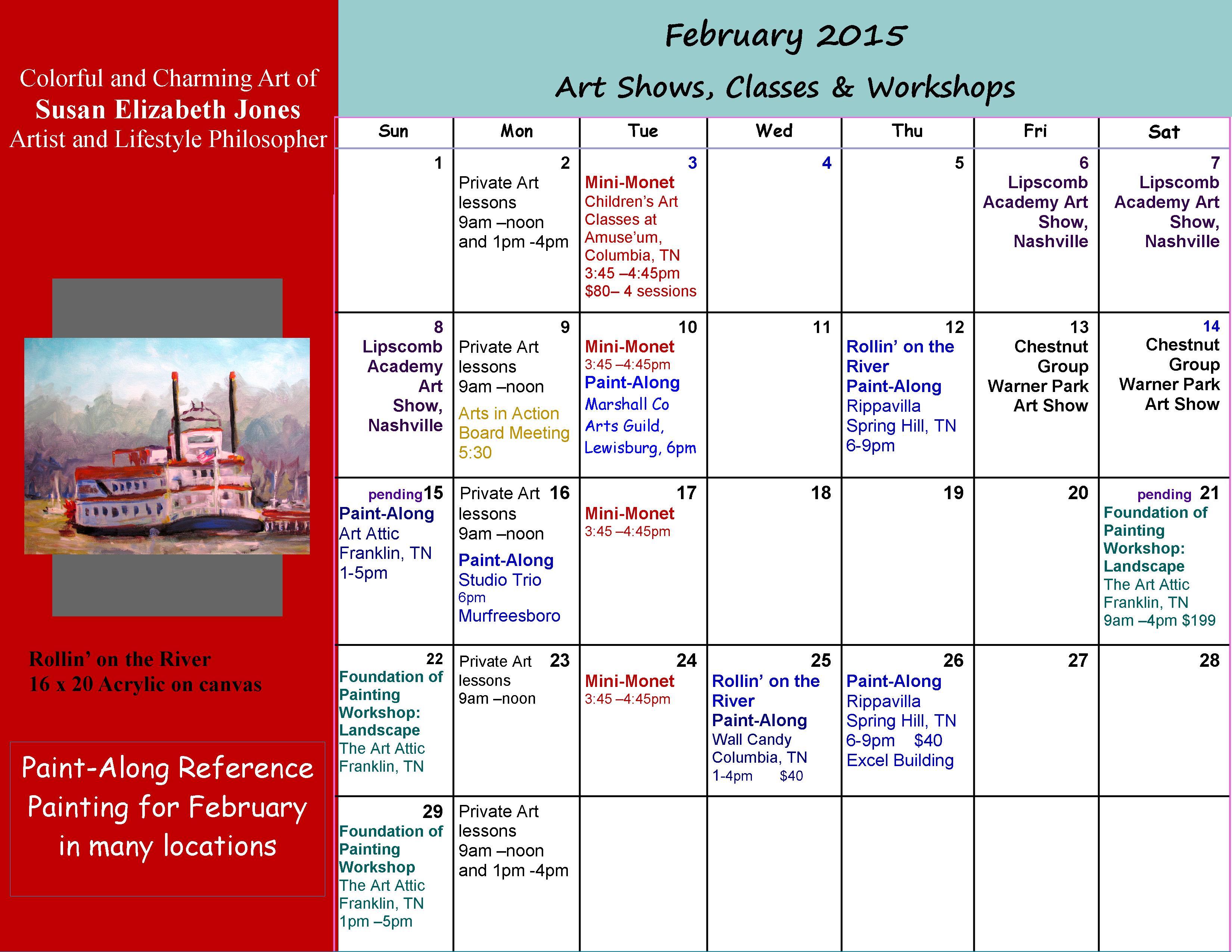 Colorful and Charming Gifts and Treasures
1.  Colorful & Charming Totebags $10 each or 2 for $15
2.  Colorful & Charming Painting Aprons $25 each
Colorful & Charming Painting Aprons come in black with 2 pockets. The bibbed apron loops over the head
and ties in the back. One size fits most. The apron will be customized with your name embroidered on the
front with the painting palette. It is $25 and $6 to deliver by USPS or you can pick it up at my studio or one
of my classes and save on the shipping.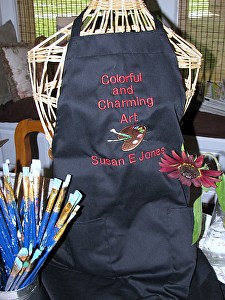 3. Historic Homes and Churches Note card sets  $12/pkg (contains 6 cards and 6 envelopes)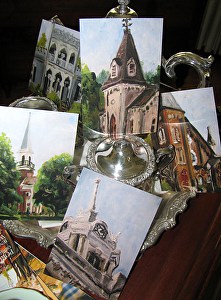 4. Historic Homes and Churches Magnets $3 each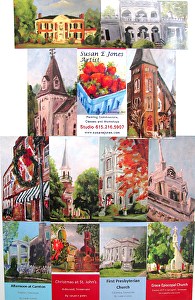 5. Commission a Pet Portrait or House Portrait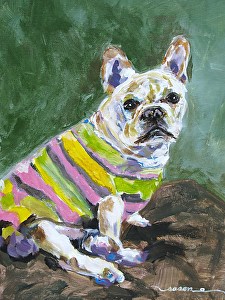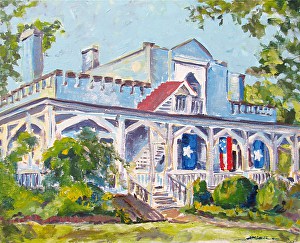 Quick Links
Blog: Charm of the Carolines
Website: Susan E Jones Fine Art
Facebook: The Colorful and Charming Art of Susan E Jones